nocz stránky
news
---
02/2023
february minitour NOCZ Kyjov - Brno - Praha - Volyně with Jan Chalupa on drums
---
09/2022
new cd Sinfonietta (live from festival Janáček Brno) will be released in October (label Hevhetia as always)
---
09/2019
2019 - 10 years anniversary
looking forward to festival Jazz Goes to Town Hradec Králové with great musicians Rieko Okuda, Nikolaus Neuser, Tobias Delius and Jan Jirucha
28.9.-8.10. autumn NOCZ tour
29.9.-2.10. studio V&V Zlín, making new music
thanks to Music Norway
and Stavanger Kommune
for good support
---
02/2019
2019 - 10 years anniversary
looking forward to festival concerts - Jazzfest Brno, Jazz Goes to Town Hradec Králové
great musicians Rieko Okuda, Nikolaus Neuser, Tobias Delius, Johannes Lauer will join us in Berlin concert 15.2.
---
01/2018
new cd NOCZ WITH CHOIR will be released in October (label Hevhetia as always)
another Czech tour NOCZ 3.-9.3. (Frýdek Místek, Brno, Havlíčkův Brod, Ostrava, Opava, Hradec Králové). Iva Bittová will join us at the first concert.
---
09/2017
we are recording new cd in studio Orlí with Jan Košulič in the middle of October
special set of musicians - 12 member choir with NOCZ!
concerts with choir are included
---
04/2017
"DIDRIK INGVALDSEN [tpt], who I know of mainly through Frode Gjerstad's Circulation Totale Orchestra from the '90s, takes some of the Gjerstad irregular energy and places it in a mostly metered environment. Here he and his orchestra have produced THE EXPANDING CIRCLE [Hevhelia HV 0124-2-331]. Make no mistake this is post bop orchestration, some of which is exciting in of itself. But what really sells this music is the individual solos which cut across the orchestra's originals, on this undated [2016?] CD. 11 originals [61:56] make up the music played by his Czech/Norwegian octet in which Marcel Bárta [ts/clt] is outstanding. Liner notes, dates and identified soloist would have been appreciated. Still, full dynamic listening."
from CADENCE MAGAZINE 4/17 (US)
many new reviews
---
01/2017
listen our new cd The Expanding Circle by Didrik Ingvaldsen Orchestra (Hevhetia 2016)
for more see e-shop
Hevhetia
first review
The Expanding Circle by Andreas Schiffmann
---
12/2016
new video
- full concert NOCZ & Iva Bittova, Jazz Goes to Town 2016
---
09/2016
October tour with Elisabeth Nygård (Janáček 2016 Brno, Jihočeský jazzový festival České Budějovice, Jazz Goes To Town Hradec Králové, JazzDock Praha, Ebisu Brno) is supported by
---
06/2016
Great news about our Sinfonietta - Didrik Ingvaldsen Orchestra at the Janáček Brno festival 15.10. joins fantastic singer Elisabeth Nygård!
---
05/2016
First CD Didrik Ingvaldsen Orchestra "The Expanding Circle" is realising on November. Thanks to Hevhetia. Mix by Rainer Robben in Berlin is great!
new video NOCZ with Iva Bittová - Summer music festival Hevhetia 2015, Košice
---
02/2016
"The distinctive dynamism the NOCZ quartet displayed tonight with their emphasis on rhythm, collective improvisation and unique free style made for an explosive night of unconventional jazz played by consummate, innovative performers."
new great review Nocz in Spice of Life, London *****
by Lucy Murphy
We are preparing Janáček's Sinfonietta for 15.10.2016!
5th International Theatre and Music Festival Janáček Brno 2016
---
01/2016
We had a great small Czech tour in January - Černošice, Praha, Pardubice, Brno
photos from D29 Pardubice
---
11/2015
November recording with big ensemble - studio Orlí, NOCZ quartet added Marcel Bárta, Michal Wróblewski, Tomáš Hobzek, Petr Graham
---
10/2015
Lots of new concert videos from our summer tour with Iva Bittova to be watched........
www.facebook.com/nocz.eu
---
09/2015

new review NOCZ + Iva Bittová Bratislava 27.8.2015 by Rado Tihlárik SkJazz

Thanks to Ján Sudzina and Hev Het for having us on Grand tour with Iva Bittová. And to the wonderful audiences in Slovakia, Poland, Czech Republic and Hungary.
new pictures from tour
new video from Budapest Live in Lumen



---
08/2015
new great review Nocz & Iva Bittová by Adam Baruch (PL)
"Listening to this music is a true delight from start to finish!"
---
05/2015

new great review Nocz & Iva Bittová in Nový Populár (SK) *****
"Tak toto jo naozaj Nieczo! Skvela nahrávka! Plnokrvný jazz s totálnym ťahom na dreň."
Rado Tihlárik (1/15)


---
04/2015

new pictures


---
03/2015

come and see us soon:
28.03. Prague jazz festival Jazznění
29.03. interesting industrial space in Brno Industra



---
02/2015

summer/autumn tour NOCZ with Iva Bittová
16.06. Košice (SK)
17.06. Gliwice (PL)
27.08. Bratislava (SK)
02.09. Budapest (HUN)


all concerts are supported by
---
10/2014

just released new cd NOCZ & Iva Bittová (Hevhetia 2014)



listen to Pioux


for more see e-shop Hevhetia or section cd


we're on facebook





new photos by Tomáš Svoboda from Alterna Brno


---
09/2014

NOCZ is joined by Dag Magnus on drums for October tours, concerts are supported by
---
05/2014

review by JOHN KELMAN - Maijazz festival Stavanger (Nor)




---
11/2013

oo listen to NOCZ in ČRo3 Vltava


---
10/2013

oo listen to NOCZ live in Proglas

"I am happy to inform that portal "Pomoderna" have published a summary of the year 2013 - each of the authors had to choose 3 likes and 3 dislikes. I have written inter alia about Nocz Quartet which is, I believe, a brilliant piece of jazz.
You can find the text as you choose my name
Yours sincirely, Łukasz Łoziński"

new photos from the Toys, Toys and Toys release tour in October 2013 with special guests Martin Chodúr, Jiří Levíček, Jaromír Honzák

new photos by Drahomír Stulír from Desert Brno


---
09/2013

enjoy cd Toys, Toys and Toys

cd was recorded and mixed at studio V Zlín, mastered at studio AudioCue Berlin
some reviews Musikreviews.de
all about jazz
emusic
for more see e-shop Hevhetia or section cd

download poster Toys, Toys and Toys tour


about

NOCZ

Didrik Ingvaldsen - trumpet
Radim Hanousek - saxophone
Marian Friedl - double bass
Dag Magnus Narvesen - drums

special guest Iva Bittová - violin, vocals

Norwegian-Czech free jazz quartet NOCZ is led by Norwegian trumpeter and composer Didrik Ingvaldsen, who is active simultaneously on the experimental jazz scenes in Norway, Berlin and New York. Norwegian drummer Dag Magnus Narvesen implements his current activities mainly in Berlin. The Czech musicians Radim Hanousek and Marian Friedl work together in a number of Czech jazz formations, moreover Hanousek is seriously engaged in contemporary music and Friedl in Moravian folk music.

The music of NOCZ has a unique flavor based on the work of trumpeter Didrik Ingvaldsen, who combines modern trends of experimental jazz with classic free jazz approaches and a traditional lineup: trumpet, saxophone, double bass, and drums. Their music is characterized by lot of energy, distinctive dynamic breaks, heavily orchestrated passages alternating with freer ones, expressive melodies, emphasis on rhythm in the compositions, and collective improvisation.

Their common album NOCZ & Iva Bittová brings a unique combination of the Czech-Norwegian band that draws influences from free jazz, noise and ambient music with the distinctive Czech female vocalist, while their common distinguishing feature is an easy overcoming the genre barriers, sovereign expression in the field of improvised music and free vocalize combined with a significantly dense brass section and dynamic rhythm.

"An undoubtedly successful and progressive jazz album, rarely heard in our homeland!" (Jan Hocek - JazzPort)
"The compositions mix muscular, rhythmic free jazz with sonic experimental sonic elements, spiced with Balkan and Klezmer overtones, alternating between tight, orchestrated parts and fiery free improvisations." (Eyal Hareuveni - All About Jazz)

Singer and violinist Iva Bittová is one of the few artists from the Czech Republic to enjoy an international career. Her irresistible charm, original use of voice, and fondness of melodies that sit on the border of avant-garde and playground nursery rhymes won her devoted fans around the world, although the core of her audience resides in Eastern Europe. (AllMusic.com)



---
Osobitý charakter hudbě pět let fungující norsko-české free jazzové formace NOCZ udává interpretace skladeb norského trumpetisty Didrika Ingvaldsena, které kombinují současné trendy v experimentálním jazzu s klasickými free jazzovými postupy a tradičním obsazením kapely ve složení trubka, saxofon, kontrabas a bicí. Typická je velmi energická hra s výraznými dynamickými zlomy, kombinace prokomponovaných pasáží s volnými plochami, výrazná melodika, významná práce s rytmem v kompoziční práci i kolektivní improvizace.
---
Didrik Ingvaldsen Orchestra
Didrik Ingvaldsen - leader, arranger, trumpet player
Marcel Bárta, Michal Wróblewski, Radim Hanousek - saxophones, clarinets
Jaroslav Šťastný - piano
Marian Friedl - double bass
Dag Magnus Narvesen, Tomáš Hobzek - percussion
special guest Elisabeth Nygård - vocal
The leader of this Norwegian‐Czech band is trumpet player and composer Didrik Ingvaldsen who is currently active also on major jazz experimental scenes in Norway, Berlin, and New York. Together with Norwegian drummer Dag Magnus Narvesen (currently active mainly in Berlin and – apart from his own projects – cooperating with a star of jazz avant‐garde Alexander von Schlippenbach), Radim Hanousek, and Marian Friedl (Hanousek focuses on contemporary music – Dust in the Groove, Dunami Ensemble, apart from other jazz bands he runs with Friedl, while Friedl deals in Moravian folklore – Jitka Šuraňská, Ruky na dudy), they have been members of NOCZ quartet for 5 years. They recorded their last album with respected performer Iva Bittová (NOCZ & Iva Bittová, Hevhetia 2014). The album was very positively reviewed all over Europe. In Didrik Ingvaldsen Orchestra the quartet is joined by other musicians experienced in experimental open jazz.
Piano player Jaroslav Šťastný belongs among unconventional and globally respected composers, and he is also a prolific writer and artist. As an improviser he is a member of Prague Improvising Orchestra, Divergent Connections Orchestra, and a free‐jazz band Next Phase.
Marcel Bárta is a very active and universal saxophone player who for years has been involved in the most interesting things happening on the Czech jazz scene (Vertigo Quintet, Muff, DoMa Ensemble, Face of The Bass, NUO, Bucinatores Orchestra, Pigeon Saxophone Quartet etc.).
Michal Wróblewski has been studying at Norwegian Academy of Music in Oslo while being a part of local avant‐garde jazz scene (KIAP, Streams of Eyebeams). Also, he is in charge of his own projects E Converso and SWOMP.
Apart from his own quartet with Marcel Bárta being one of the members, Points band and a number of other projects, Tomáš Hobzek cooperates with David Dorůžka, Ondřej Pivec, and Libor Šmoldas.
Elisabeth regularly records and performs throughout Europe and Scandinavia with the highly acclaimed ensembles, 'MooV', lead by composer Colin Riley, 'Fringe Magnetic', led by the critically acclaimed trumpeter Rory Simmons which features some of the UK's most important Jazz musicians and the Anglo/Norwegian trio Eyes of a Blue Dog, who recently received outstanding reviews in the European press for their second album "Hamartia". In addition, she has collaborated with The British sensation Jaime Cullum, Fyfe Dangerfield and Grasscut and with the Norwegian leading contemporary bands, Kitchen Orchestra and Extended Corner. Elisabeth is highly sought after as a composer/lyricist and is frequently commissioned as well as composing for her own ensembles.
The project performs its own jazz version of Sinfonietta by Janáček and its program from the new album Expanding Circle.
---
Lídrem této norsko‐české formace je trumpetista a skladatel Didrik Ingvaldsen, působící současně na významných jazzových experimentálních scénách v Norsku, Berlíně a New Yorku. Spolu s norským bubeníkem Dagem Magnusem Narvesenem (ten realizuje své současné aktivity převážně v Berlíně a kromě svých autorských projektů spolupracuje s hvězdou jazzové avantgardy Alexanderem Von Schlippenbachem), Radimem Hanouskem a Marianem Friedlem (kromě dalších společných jazzových formací s Friedlem se Hanousek věnuje soudobé hudbě – Dust in the Groove, Dunami Ensemble – a Friedl moravskému folklóru – Jitka Šuraňská, Ruky na dudy) tvoří již 5 let kvarteto NOCZ. Poslední album natočilo kvarteto NOCZ se světově respektovanou performerkou Ivou Bittovou (NOCZ & Iva Bittová, Hevhetia 2014). Album sklidilo velice příznivé recenze po celé Evropě. V Didrik Ingvaldsen Orchestra je kvarteto rozšířeno o další zkušené hráče na poli experimentálního otevřeného jazzu.
Pianista Jaroslav Šťastný patří k nekonvenčním a světově respektovaným skladatelům, rozsáhlá je i jeho činnost literární a výtvarná. Jako improvizátor je členem Prague Improvising Orchestra, Divergent Connections Orchestra a freejazzové formace Next Phase.
Marcel Bárta je velice aktivní a všestranný saxofonista, již řadu let je součástí toho nejzajímavějšího, co se v českém jazzu děje (Vertigo Quintet, Muff, DoMa Ensemble, Face of The Bass, NUO, Bucinatores Orchestra, Pigeon Saxophone Quartet a další).
Michal Wróblewski studuje druhým rokem na Norwegian Academy of Music v Oslu, je součástí tamní avantgardní jazzové scény (KIAP, Streams of Eyebeams), kromě toho vede vlastní projekty E Converso a SWOMP.
Tomáš Hobzek kromě vlastního kvarteta, jehož členem je i Marcel Bárta, kapely Points a řady dalších projektů spolupracuje s Davidem Dorůžkou, Ondřejem Pivcem a Liborem Šmoldasem.
Elisabeth pravidelně vystupuje a nahrává po celé Evropě a Skandinávii s velmi uznávanými soubory, např. MooV, který vede skladatel Colin Riley, Fringe Magnetic, který vede respektovaný trumpetista Rory Simmons a ve kterém vystupují přední britští jazzoví hudebníci, a anglicko‐norské trio Eyes of a Blue Dog, kterému se v poslední době dostalo mimořádně příznivých recenzí v evropském tisku za druhé album Hamartia. Dále spolupracuje s britskou senzací Jamie Cullumem, Fyfe Dangerfieldem, skupinou Grasscut a s předními současnými norskými hudebními skupinami jako Kitchen Orchestra a Extended Corner. Elisabeth je velmi vyhledávaná i jako skladatelka hudby a autorka textů.
Projekt vystupuje s vlastní jazzovou verzí Janáčkovy Sinfonietty a programem z nového alba Expanding Circle.
---
cd
Sailor on Dry Land -
Hevhetia 2019
(to buy the CD please visit e-shop at
www.hevhetia.sk
or see
contact
)
Didrik Ingvaldsen - leader, arranger, trumpet
Radim Hanousek - saxophones
Marian Friedl - double bass
Dag Magnus Narvesen - drums
choir:
Jana Vondrů, Lukáš Baumann, Lukáš Hasa, Jiří Havrlant, Aneta Podracká Bendová, Helena Tomalová a Markéta Urbánková
conducting: Jana Vondrů
recorded at Nahrávací studio Divadla na Orlí (Jan Košulič)
mixed and mastered by studio AudioCue Berlin (Rainer Robben)
reviews: Jazzport
SK jazz
magazin UNI











Didrik Ingvaldsen Orchestra - Hevhetia 2016 (to buy the CD please visit e-shop at www.hevhetia.sk or see contact)





Didrik Ingvaldsen - leader, arranger, trumpet
Marcel Bárta, Michal Wróblewski, Radim Hanousek - saxophones, clarinets
Jaroslav Šťastný - piano
Marian Friedl - double bass
Dag Magnus Narvesen, Tomáš Hobzek - percussion

guests: Pavel Zlámal (sax), Radek Zapadlo (sax), Petri Herzanen (sax), Jan Galia (tb), Jan Navrátil (guit), Martin Kleibl (dr)

recorded at Nahrávací studio Divadla na Orlí (Jan Košulič)
mixed and mastered by studio AudioCue Berlin (Rainer Robben)

reviews: Město Hudby
Hudební Rozhledy
musikreviews
hangzasvilag
jazzport
skjazz
rock&all
uni
LongPlay
Muzyczna Gazeta










NOCZ & Iva Bittová - Hevhetia 2014 (to buy the CD please visit e-shop at www.hevhetia.sk or see contact)





Iva Bittová - violin, vocals
Didrik Ingvaldsen - trumpet, el. trumpet
Radim Hanousek - soprano, baritone saxophones
Marian Friedl - double bass
Václav Pálka - drums, percussion

recorded and mixed at studio V Zlín (Petr Vavřík, Ivo Viktorín, Marcel Gabriel)
mastered by Alexej Charvát, studio Svengali Praha

reviews: Adam Baruch (PL)
JazzPort
Long Play
iDNES
skJazz
salt peanuts*
musikreviews
Cadence Magazine








Toys, Toys and Toys - Hevhetia 2013 (to buy the CD please visit e-shop at www.hevhetia.sk or see contact)




Didrik Ingvaldsen - trumpet, el. trumpet, cornet
Radim Hanousek - soprano, tenor, baritone saxophones
Marian Friedl - double bass
Václav Pálka - drums, percussion

recorded and mixed at studio V Zlín (Petr Vavřík, Ivo Viktorín, Marcel Gabriel)
mastered at studio AudioCue Berlin (Rainer Robben)

reviews: Musikreviews.de
all about jazz
iDNES
skJazz
Harmonie
United Islands Prague 2013
Nový Popular
video
photo
NOCZ & the "Sailor's choir" (photo Rose Vinda) (9x)
DIO & Elisabeth Nygård (37x) DIO, Žižkov Meets Jazz, Akropolis, Praha 2015 (11x)
London Spice of Life + I'klectik Art Lab 2015 (5x)
Tour NOCZ & Iva Bittová 2015 (4x) Industra 2015 (photo Eva Svobodová) (30x)
Lumen, Budapest 2015 (photo Dávid Tamás) (5x) Festival Jazznění Praha 2015 (16x)
Mai Jazz Festival Stavanger 2014 (8x) Freedecký majáles U Arnošta 2014 (14x)
Alterna 2014 (photo Tomáš Svoboda) (29x)
Release tour 2013 Praha Brno Ostrava (8x) Desert Brno 2013 (photo Drahomír Stulír) (21x)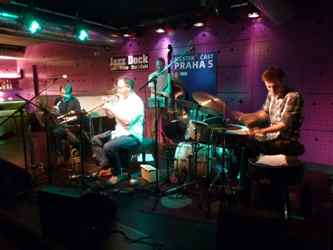 JazzDock 2010 (4x) Jazzinec Trutnov 2009 (photo Patrick Marek) (34x)
concerts
07.02.2023 Tvrz, Volyně
06.02.2023 Akropolis, Praha
05.02.2023 Terén, Husa na provázku, Brno +special guest Tomáš Vtípil
04.02.2023 Jančovka, Kyjov

08.09.2022 Gauč, Blansko
07.09.2022 Café Ponava, Brno
06.09.2022 Malá scéna, Ústí nad Orlicí
05.09.2022 Jazzklub, Havířov

10.07.2021 studio Tomáš Vtípil, Brno +Pasi Mäkelä, Tomáš Vtípil
07.07.2021 Ponava, Brno +Tomáš Vtípil

19.06.2021 Jazzkeller 69, Berlin +Didrik Ingvaldsen Ensemble

26.08.2020 Ponavafest, Brno +choir

08.10.2019 Jazz Goes to Town, Hradec Králové +Didrik Ingvaldsen Ensemble (NOCZ + Rieko Okuda, Tobias Delius, Nikolaus Neuser, Jan Jirucha)
07.10.2019 Malá scéna, Ústí nad Orlicí
06.10.2019 JazzDock, Praha
05.10.2019 Kafírnictví, Kutná Hora
04.10.2019 Ponava, Brno
03.10.2019 Gauč, Blansko
02.10.2019 Reigen, Vienna (A)
30.09.2019 Alternativa, Zlín
28.09.2019 Free Jazz Festival, Praha

28.04.2019 Jazzfest, Brno
26.04.2019 Nová synagoga, Žilina
25.04.2019 T3, Bratislava

15.02.2019 Aufsturz, Berlin +Nikolaus Neuser, Tobias Delius, Johannes Lauer, Rieko Okuda
14.02.2019 Sowieso, Berlin

17.07.2018 ShowCase Hevhetia, Košice
16.07.2018 Písek v centru, Masarykovo náměstí, Ostrava

29.04.2018 Rekovice +Iva Bittová
28.04.2018 Leitnerka, Brno +Iva Bittová

09.03.2018 Satchmo, Hradec Králové
08.03.2018 Artklub, Opava
07.03.2018 Absintový klub Les, Ostrava
05.03.2018 Čarodějka, Havlíčkův Brod
04.03.2018 Ponava, Brno
03.03.2018 Stolárna, Frýdek Místek +Iva Bittová

25.11.2017 Žižkov Meets Jazz, Divadlo Járy Cimrmana, Praha

19.10.2017 Ebisu, Brno
18.10.2017 Podobrazy, Brno +choir
17.10.2017 Muzikograf, Blansko +choir

25.05.2017 Festival of Ugly Music, Distillery, Brno
23.05.2017 Literární kavárna Řetězová, Praha
22.05.2017 Uherský Brod
20.05.2017 Museum night Brno, Janáček museum Ingvaldsen, Narvesen, Graham
19.05.2017 Ponava festival, Lužánky Brno
17.05.2017 Ebisu Brno

19.10.2016 JazzDock Praha +Didrik Ingvaldsen Orchestra & Elisabeth Nygård
18.10.2016 Jazz Goes To Town, Hradec Králové +Iva Bittová
17.10.2016 Jihočeský jazzový festival, České Budějovice +Didrik Ingvaldsen Orchestra & Elisabeth Nygård
15.10.2016 Reduta, Janáček 2016 Brno +Didrik Ingvaldsen Orchestra & Elisabeth Nygård
13.10.2016 Ebisu, Brno +Elisabeth Nygård

26.07.2016 Ebisu, Brno +guests Jaroslav Šťastný, Jan Navrátil, Vlado Micenko
25.07.2016 Ebisu, Brno
24.07.2016 Jazz ve městě, Frýdek-Místek

23.01.2015 Ebisu, Brno
22.01.2016 Pardubice
21.01.2016 České Budějovice
20.01.2016 JazzDock, Praha
19.01.2016 Černošice

27.11.2015 DI Orchestra, Žižkov meets jazz, Akropolis Praha

23.10.2015 I'klectik Art Lab, London (UK)
22.10.2015 Spice of Life, London (UK)
21.10.2015 Volyně
17.10.2015 Na věčnosti, Znojmo
16.10.2015 Jazzklub, Kyjov
15.10.2015 U Palce, Tišnov

02.09.2015 Opus Jazz Club of BMC, Budapest (HUN) +Iva Bittová
01.09.2015 Café Lumen, Budapest (HUN)

30.08.2015 Houpání u Svitavy, Brno
27.08.2015 Kníhkaviareň Foxford, Bratislava (SK) +Iva Bittová

17.06.2015 Gliwice (PL) +Iva Bittová
16.06.2015 Kulturpark, Košice (SK) +Iva Bittová

29.03.2015 Industra, Brno
28.03.2015 Jazznění Kaštan, Praha

18.12.2014 Vlněna, Brno

16.10.2014 Music Lab, Brno +Didrik Ingvaldsen Orchestra
14.10.2014 Radniční pivovar, Jihlava
13.10.2014 Sádrový ježek, Ostrava
12.10.2014 Alterna, Brno
11.10.2014 Sklepy, Boskovice

22.05.2014 Café Atlas, Brno
08.05.2014 Stavanger (Norway), Maijazz festival
05.05.2014 Brno, Ebisu
01.05.2014 Frýdek Místek, Freedecký majáles

30.04.2014 Frenštát, Jazzmaraton

31.10.2013 Praha, JazzDock
30.10.2013 Nymburk, U strejčka
29.10.2013 Brno, Desert
23.10.2013 Brno, live in Proglas
22.10.2013 Brno, Stará Pekárna
21.10.2013 Ostrava, Sádrový ježek
20.10.2013 Kopřivnice, Mandala
19.10.2013 Znojmo, Na věčnosti
18.10.2013 Ostrava, Stará Aréna

23.06.2013 Praha, Náplavka
21.06.2013 Praha, United Islands
20.06.2013 Brno, Desert
19.06.2013 Brno, Stará Pekárna

09.02.2013 Brno, Mýdlo
05.02.2013 Kopřivnice, Mandala

16.08.2012 Brno, Desert
14.08.2012 Zlín, Bamboo
12.08.2012 Ostrava, Cooltour

11.02.2012 Kyjov
10.02.2012 Praha, Kaštan
09.02.2012 Brno, Stará Pekárna

29.10.2011 Dunajská Streda, Are You Free
28.10.2011 Žilina
27.10.2011 Brno, Falk

24.11.2010 Brno, Podobrazy
22.11.2010 Brno, Starý Pivovar
21.11.2010 Berlin, Galerie Mario Mazzoli
20.11.2010 Berlin, Schlott

downloads

download poster nocz & iva bittová

download photo NOCZ
download photo NOCZ & Iva Bittová

download TechRider NOCZ
download TechRider NOCZ + Iva Bittová

download text NOCZ & Iva Bittová
download text NOCZ

music soundcloud


last cd nocz & iva bittová:
"Album eloquently titled NOCZ & Iva Bittová brings a unique combination of the Czech-Norwegian band that draws influences from free jazz, noise and ambient music with a distinctive Czech female vocalist. Their common distinguished feature is to easily overcome the genre barriers, sovereign expression in the field of improvised music and free vocalize combined with a significantly dense brass section and dynamic rhythm."...Hevhetia, 2014

review Adam Baruch
musikreviews
all about jazz


wrote about us:

nocz & iva bittová - "An undoubtedly successful and progressive jazz album, rarely heard in our homeland!" ...JazzPort, 2014/11 (Jan Hocek)

"Nocz Quartet is, I believe, a brilliant piece of jazz" ...Pomoderna, 2014/1 (Łukasz Łoziński)

"The compositions mix muscular, rhythmic free jazz with sonic experimental sonic elements, spiced with Balkan and Klezmer overtones, alternating between tight, orchestrated parts and fiery free improvisations." ...All About Jazz, 2013/9 (Eyal Hareuveni)

"Listening to this music is a true delight from start to finish!"...Adam Baruch, 2015/8
contact
booking and ordering CD: hanousekr@gmail.com +420 604 441 585